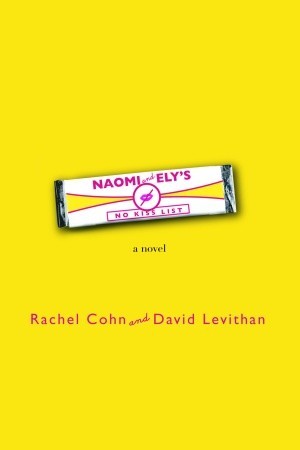 Naomi and Ely's No Kiss List by Rachel Cohn & David Levithan
This is the second collaborative novel from Cohn and Levithan – both authors that I adore. I went into this book with high expectations as I have really enjoyed the previous co-written novel as well as many of their individual novels. They did not disappoint.
Naomi and Ely, best friends from an early age, are like one entity and feel like a part of them is missing if the other is not around. The friendship between the two is one of comedy, spontaneity and uniqueness. Naomi loves Ely in more than a friend kind of way even though she knows that Ely is gay. They pretend that one day they will get married, but Ely doesn't realize that deep down Naomi wants that pretend game to come true. They create a No Kiss List, so that they know which guys are off limits for dating – "
The No Kiss List is our insurance against a Naomi & Ely breakup".
As the novel goes on, their friend
ship gets ripped apart, because one breaks the pact of the
list.
This leaves the two torn with the truth, angry at each other and themselves and trying to put the pieces back together.
Each chapter is written from a different characters point of view, not just Naomi and Ely, but friends and lovers too. It is a very interesting concept to have so many points of view for the same story as it goes along, but it also lets you see how others see the friendship develop and fall apart. Each chapter has a uniqueness to it and the style of writing changes based on the character speaking. Naomi's sections use a lot of wingding font images to stand in for some words, which for the most part I understood based on the text surrounding them. The only other characters style that stood out to me was Gabriel, Naomi's maybe love int
erest. His one section was a play list of songs, he made a mix tape for Naomi, where he explains why each song has meaning and you learn quite a lot about his past through this process. It was a very creative way to show the background of a character.
I found myself fighting for Naomi and Ely and wanting them to finally figure out their issues and make nice again. It was exciting to see how they each come to a realization about themselves and actually learn from the "breakup". Naomi grows so much as a character, from being a snotty, self-absorbed girl into an understanding and compassionate lady. And Ely himself learns that all he has truly wanted was love, but kept pushing everything away that might actually bring that to him.
Overall a great read and an interesting look at friendship, the meaning of love on many different levels, and how life can throw curve balls at you to test your ability to weather the storms. I hope to see more from Cohn and Levithan in the future as they write so beautifully together.
xposted on librarything and Aurora Reviews
Received from: Library