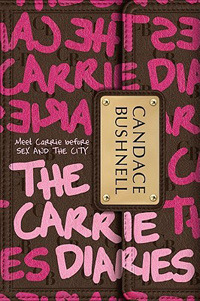 The Carrie Diaries by Candace Bushnell
THE CARRIE DIARIES

is the coming-of-age story of one of the most iconic characters of our generation. Before Sex and The City, Carrie Bradshaw was a small-town girl who knew she wanted more. She's ready for her real life to start, but first she must navigate her senior year of high school. -HarperTeen
In this book we meet Carrie Bradshaw (pre-Sex and the City) as a seventeen-year-old high school senior. Carrie shows such a unique personality with her clothing choices (her very eclectic style), her friends, and that she also thinks for herself.
Seeing her be the envy of the popular girls and then the one who no one thinks about is quite an eye opener. And then watching her develop friendships with the unlikeliest of people and lose the friendships of those she felt would waiver, will make you smile and then feel sorry for her loss.The best parts of the book were when Carrie has to deal with tough situations - from losing her boyfriend, to dealing with a troubled little sister and trying to help a friend out of a sticky situation.
Watching Carrie go through the excitement of having a boyfriend, especially the bad boy that everyone wants, and then going through the lows of wondering why she is acting different than her normal self all for the sake of a boy were a wonderful read, as many of us have gone through the same situation. I loved how Carrie found herself and her voice and went back to her roots of not conforming to what others expected of her - including with this relationship.
I can see where Carrie gets her hopeless romantic notions from, her Dad. He is a scientist, yet somehow is a romantic at heart. His little pep-talks with his girls are where I truly see how Carrie came to her rationalizations and ideals about love.
He said he'd already had the one big love of his life, and anything less would feel like a sham. He felt blessed, he said, to have had that kind of love once in his life, even if it didn't last forever.
The story also shows how Carrie found her writing voice, by writing for the school paper, in her gossip column style. She gets everyone talking with her writing and is finally hoping to get her career in writing started. This leads to an opportunity to finally go to New York like she has always dreamed of.
I truly hope to see the another book about Carrie and her life after high school and the beginnings of her life in New York... as I feel like the book left off in a great position for just that.
Received: from library