I stumbled upon a new-to-me book blogger, Amanda's Words, when reading the message boards on Goodreads for my local library. And while checking out her blog I noticed this awesome Goodreads book tag and just had to do it! I'm not tagging anyone, but feel free to play along if you like. (Originally found by Amanda as a YouTube tag by Peter Monn).
1. What was the last book you marked as 'read'?
Audiobook - Harry Potter and the Philosopher's Stone by JK Rowling (library book)
Print - Guardian of Secrets (Library Jumpers #2) by Brenda Drake (library book)
2. What are you currently reading?
Confessions of a Domestic Failure by Bunmi Laditan- release date May 2, 2017
The Scribe of Siena by Melodie Winawer (review book for Timeless Tour)
3. What was the last book you marked as 'TBR'?
For Review: The Gypsy Moth Summer by Julia Fierro - release date June 6, 2017
For Fun: Fantastic Beasts and Where to Find Them (Original Screenplay) by JK Rowling
4. What book do you plan to read next?
For Review: Close Enough To Touch by Colleen Oakley
Reread: Harry Potter and the Chamber of Secrets by JK Rowling (audiobook)
5. Do you use the star rating system?
I try to, but I find it hard to give a star rating. That's why you won't see star ratings on my reviews on my blog. I decided not to rate them with stars and just let me words say what needs to be said about the books, but on Goodreads I try to pick the closest I can, though I wish there were 1/2 star ratings.
6. Are you doing a 2014 Reading Challenge?
It's 2017 now and I am doing the challenge. My goal is set at 60 books this year, which is higher than last year but lower than previous years. Last year I was pregnant and had no ability to concentrate on reading so audiobooks became my best friends when I wasn't watching Netflix and this year I'm on maternity leave for part of the year (only a few months before I go back to work) and I think I'll be able to fit my reading in at lunch hour at work and audiobooks in the car.
7. Do you have a wishlist?
Yes, I have a wishlist on Goodreads that I am constantly updating. Either deleting books I'm not as interested in anymore or adding tons of new ones after reading blog posts from fellow book bloggers! I even have a wishlist for my daughter, Spencer.
8. What book do you plan to buy next?
Tough question. I've been receiving a lot of review books lately and using the library a ton. I've been trying not to buy any books lately, but if I were to pick one up I think it would be something I've read before - probably Fangirl, Eleanor & Park, Carry On or Kindred Spirits by Rainbow Rowell. I love her writing and am not sure why I don't already own these books.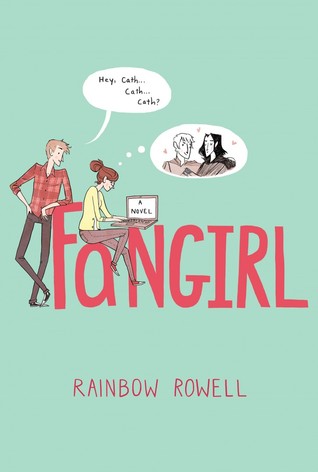 9. Do you have any favorite quotes, would you like to share a few?
"Nothing good is easy." -Rainbow Rowell, Landine
10. Who are your favorite authors?
Rainbow Rowell, Courtney Summers, Kathy Reichs, to name a few.
11. Have you joined any groups?