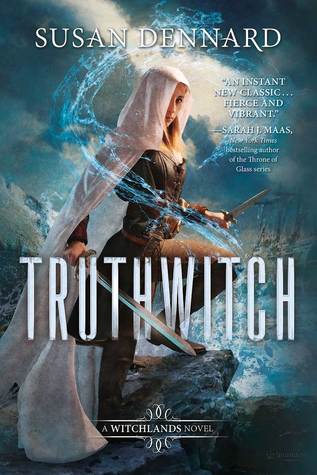 The Gallagher Girls by Ally Carter - I loved The Heist Society series and even read a short story crossover, but still haven't started this series. I do have the first one on my Kindle app because it was one of those deal of the day specials a while back, but still haven't started reading it.
The Witchlands by Susan Dennard - I won the first book in the series last year, but it's still sitting on my bookshelf. In my defense, I won it just before I had my baby so it went on the back burner.
The Glass Series by Maria V Snyder - I bought the paperbacks for Storm Glass, Sea Glass and Spy Glass two years ago, but still haven't started them.
Jane Jameson Series by Molly Harper - I have all four books on my shelf and they have been there for years. I really need to get reading them. It was when I was going through a vampire phase.
Wondrous Strange Series by Lesley Livingston - I've had the first two in the series on my shelf for some time and they are signed! I just need the third book and then maybe I'll read them. ;)
White Rabbit Chronicles by Gena Showalter - I have the first as an ebook and the second is an ARC I traded for a while back.
Across the Universe by Beth Revis - my BFF gave me the first two books in hardcover years ago, still haven't read them.
How To Series by Vicky Dreiling - another series by BFF sent to me. I have the complete series, just need to get in the mood for a good historical romance series.
NOLA Zombie Series by Gillian Zane - I bought the first three plus the prequel novella to support a fellow blogger, but haven't read them yet. I was in a very big zombie phase for a while too, but switched when I hit a slump. I hope to get to these soon as they sound amazing!
Pretty Little Liars by Sara Shepard - During my pregnancy, my hubby and I started watching the TV series. We never finished, but plan to sometime. But I still really want to read this series, even though it looks long with 16 books and a few novellas.
What series have you been meaning to start but haven't yet? Have you read any of the ones I've listed, what did you think?